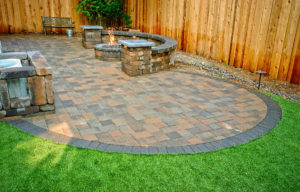 Many of us enjoy spending time outdoors and those that do probably have thought about redoing or expanding their patios. Pavers are a great option since they are made of concrete, clay, or natural stone. Pavers also come in many different colors, textures, and patterns to accommodate any look you're hoping to achieve. The following runs through the advantages of having a paver patio…
Benefits of Pavers Patios
Paver Patios Are Durable – Pavers are less likely to crack and are generally 3 to 4 times stronger than slab concrete as they are installed to create a flexible pavement system. Pavers come in a variety of colors, some of which hide chips or cracks that can occur. This keeps them looking great longer.
Paver Patios Are Easy To Maintain – If you're hoping for a patio that requires minimal maintenance, consider installing a paver patio. They don't require routine sealing or staining and are relatively easy to repair. To clean your paver patio, simply use a leaf blower or broom to clear it of any dirt or debris. Soap, water, and a scrub brush can be used to remove any stains. You can also request that your landscaper applies a protective sealer which will increase the life span of your paver patio.
Paver Patios are Weather Resistant – Pavers are designed to be flexible which allows them to accommodate any surface changes as a result of a shift in the temperature. So if you're worried that seasonal weather changes will affect your paver patio, you can rest assured that it will respond well to any change in weather and temperatures.
Things to Know Before You Install a Paver Patio
Be Sure to Have Proper Drainage – As a homeowner, you must triple check that your paver patio has the proper drainage it needs to keep rainwater from collections under your patio or close to your home's foundation. Without a proper drainage system intact, water can accumulate beneath your patio making the pavers crack and/or sink. Most patios are slopes away from the home so that the water drains away from your home and it's foundation. General protocol is a decrease of one inch in elevation for every two feet of length.
Avoid Letting Weeds Grow Between The Pavers – Your landscaper will most likely lay a geotextile fabric on top of the soil but beneath the sand that the pavers will be installed on. This special cloth can significantly reduce the growth of weeds between your pavers. Polymeric sand should be used in the space between the pavers to aid in weed prevention. Polymeric sand consists of fine grains that contain silica which will form a tight bond of water is poured on it so you won't have to worry in the rain or as you water any flowers on the patio.
Keep Any Remaining Pavers – Once your paver patio is complete, you should keep some of the extra pavers in case you need to repair or replace any damaged pavers down the road.
Let a Professional Install It For You – Save yourself the time and headache… let a professional install your paver patio.
Davis Landscape can help you achieve the landscaping you dream about! We also help our clients with hardscapes such as patios, walkways, driveways, outdoor kitchens, fire pits, & more!
Contact Us (859-781-0677) for More Information!
—
About Davis Landscaping
Davis Landscape Design & Installation has been providing landscaping services to customers in Northern Kentucky and Greater Cincinnati since 1965! We know that the landscape design process can be overwhelming, so we work with you tirelessly to better understand your vision. At Davis Landscape Design & Installation, we're on your team and we know how to listen and deliver.