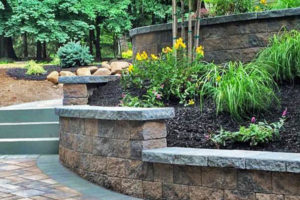 As you go through your landscape plans, you will hear the terms "softscape" and "hardscape" quite frequently. Understanding the importance of blending the two is key to creating a cohesive look. When it comes to hardscape, retaining walls are both practical and beautiful. Your outdoor living space can benefit from a retaining wall and here's why…
Retaining Walls Help Control Run-off Water
We are no stranger to heavy rain and flooding throughout the year– it seems we have had an extended rainy season this year in particular. By adding a retaining wall, you can help control run-off water to keep it from damaging your home or yard. With the right design, you will be able to direct the run-off to a certain area. Having a professional working for you can be sure that your retaining wall is within local regulations. Landscapers also have the design expertise and can help bring your visions to life.
Retaining Walls Prevent Erosion
One of the main reasons homeowners install retaining walls is to keep soil in place. With time, soil begins to shift and erode, especially around the most important part of your home– the foundation. For that reason, retaining walls are a good investment for the longevity of your home. They also add value should ever decide to sell it.
Retaining Walls Create a Balance In Your Yard
If your home is located near an incline, retaining walls can be used to create flat space. Once level, the area becomes more functional providing you with more space to add softscapes or for entertaining purposes. You can also install stairs to allow access from the bottom of your retaining wall to the top which gives you the ability to utilize your entire yard.
Retaining Walls Create Beautiful Focal Points To Your Outdoor Space
As we previously discussed, retaining walls add value while also being aesthetically pleasing. Balancing handscapes and softscapes help to keep your landscape well balanced making them more attractive and interesting. Regardless of your intentions, retaining walls add a special charm to your home and the overall look you are hoping to achieve.
Want to learn more about retaining walls and how your backyard can benefit from one? Our team of experts at Davis Landscaping can help. We have installed retaining walls in different variations and we would love to discuss how one can add to your backyard's aesthetics.
Davis Landscape can help you achieve the landscaping you dream about! We also help our clients with hardscapes such as retaining walls, patios, walkways, driveways, outdoor kitchens, fire pits, & more!
Contact Us (859-781-0677) for More Information!
—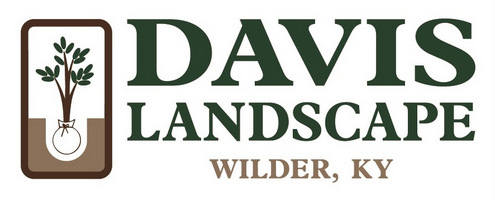 About Davis Landscaping
Davis Landscape Design & Installation has been providing landscaping services to customers in Northern Kentucky and Greater Cincinnati since 1965! We know that the landscape design process can be overwhelming, so we work with you tirelessly to better understand your vision. At Davis Landscape Design & Installation, we're on your team and we know how to listen and deliver.