Many homeowners are quick to choose asphalt over concrete when installing a new driveway. Why? Because it is more budget friendly, takes less time to install, and hold up to the elements. However, it is important to us that our clients are well educated before finalizing their decision. Your driveway needs go beyond the installation. There are several perks to a concrete driveway that make it a better long-term option than asphalt.
Poured Concrete is…
Durable
Easy to Maintain
Aesthetically Pleasing
Can Be Easily Customized
Below we will discuss the advantages of concrete on your driveway.
Concrete Is Easier to Maintain
Cost can be a determining factor for many homeowners. But it is important that you know concrete is more stable when compared to asphalt. If you do not properly maintain your asphalt it will crack and become unstable. To prevent this, you must reseal your asphalt every 3 to 5 years to ensure that it will last the entire 20 years that it is supposed to. The surface will also need to be sealed 6 months after it has been installed.
Unlike asphalt, concrete does not have to be sealed to last. It's lifespan is even longer than asphalt at 30 to 40 years– wow! While sealing is not required, it will help to maintain your concrete by keeping it from becoming stained.You can also keep it looking beautiful for years to come by pressuring washing it routinely, this will eliminate stains as well.
Concrete is More Durable
Load capacity is relatively easy to determine when it comes to concrete surfaces. Standard installation will require a minimum of 4 inches, but each additional inch will increase the load capacity by fifty percent. The thickness and ability of concrete to ensure it will maintain its structural integrity under tremendous pressure makes it much more durable than asphalt.
Asphalt is reliant on the soil and type of vehicle use, it varies in thickness but the majority of driveways are between four and six inches thick. But the flexibility of the material makes it more likely to shift due to weight variation. After a few years, large areas of asphalt may exhibit signs of dipping or waving.
The Look of Concrete is Preferred by Homeowners and Can Increase the Value of Your Home
Concrete is more aesthetically pleasing than asphalt and recent studies have proven that curb appeal can increase the overall value of your home. Concrete adds a more polished look to the exterior of your home in comparison to asphalt. Asphalt does not create the same crisp finished edging or come in customizable colors, well at least not to the same extent as concrete. Concrete gives homeowners the choice to bring their own visions to life and create the look, and home of their dreams.
Concrete Can Be Customized to Meet the Your Preferences
Asphalt gives homeowners a few options when it comes to tonal variations but the material is not as versatile nor unique when it comes to design variations. Concrete allows homeowners to choose from multiple stain options to coordinate with their exterior color palette. But by far the best feature of concrete is the ability to stamp it.
So if you want the durability and longevity of concrete but want it to look like another material, stamped concrete is probably the right choice for you. Stamped concrete gives you the opportunity to choose the look of other materials while having the strength of concrete. Stamping your concrete will allow you to make your driveway resemble wood, brick, stone and other options on the market.
Davis Landscape can help you achieve the landscaping you dream about! We also help our clients with hardscapes such as retaining walls, patios, walkways, driveways, outdoor kitchens, fire pits, & more!
Contact Us (859-781-0677) for More Information!
—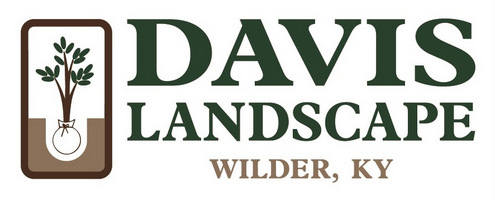 About Davis Landscaping
Davis Landscape Design & Installation has been providing landscaping services to customers in Northern Kentucky and Greater Cincinnati since 1965! We know that the landscape design process can be overwhelming, so we work with you tirelessly to better understand your vision. At Davis Landscape Design & Installation, we're on your team and we know how to listen and deliver.