Families and friends always gravitate to the outdoors of there own back yard to relax enjoy all that nature has to offer. We would like to give you some hints on how to make the most of your backyard and personalize your outdoor living space…
Install a Fire Pit
A custom outdoor fireplace or fire pit is the perfect combination of beauty and functionality which provides light, warmth, and ambiance to your patio or backyard. Picture this… you're sitting outside with your family on a beautiful night. A vast, cobalt sky covered in twinkling stars is overhead, and a cozy, crackling fire gives off a warm glow. And you have the perfect landscaping in your own back yard. Nothing could be better.
Build a raised Vegetable Garden
Raised bed gardens are one of the most productive ways to grow your own food. They give you better control over the soil conditions and allow for quick and easy harvesting of your crops. Raised beds can be simple or quite elaborate depending on your needs and the overall aesthetic you wish to create. If you build the sides wide enough to make a bench, you can even sit and garden. For those with back problems, that makes it easier to tend the plants. Let this become a family project. One of the greatest advantages of raised beds comes from the protection the structure provides from foot traffic, especially from children working in a garden area. Consider a "pizza garden" — one that grows ingredients each member of the family loves on their pizza, such as tomatoes for sauce, onions for mom and dad, and green and red peppers for the kids. Harvest time equals pizza night!
Add Hardscaping
Hardscape refers to hard landscape materials in the built environment structures that are incorporated into a landscape. There are many different elements that go into the design and overall feel of your outdoor space. Some add softness and life to your yard, and some of them add structure and hardness. Both, when designed and implemented together properly, create the perfect space for you to relax, entertain, and enjoy the great outdoors with your friends and family. Whether decorative or functional hardscaping can help to provide a focal point or add definition to your outdoor space. A few options would be a walkway, decks, gazebos. or even stone, concrete, or brick patio.
Outdoor Lighting
Landscape lighting can be the thing that takes your backyard from basic to bling. There is no need to head inside after the sun goes down with strategically placed outdoor lighting. A well-designed lighting scheme also provides safe secure passage around your property. What makes a space special during the night is the play of light and dark, highlighting features that you may not take note of during the day and creating contrast and shadows using the forms and plants in your yard. Playing with these elements creates intrigue and drama, and a well-lit space will often be one in which you want to stay.
Plant a Perennial Garden
Perennial plants provide you with beautiful blooms and foliage year after year and are the basis of any great landscape design. Perennials are plants that come back year after year. Some are evergreen and keep their foliage through the winter; others go dormant, dying back to the ground and will send up new shoots in the spring. They usually only bloom for one season each year, either spring, summer, or fall; although there are some re-blooming and ever-blooming varieties. Perennials tend to have fewer flowers than annuals because their energy is put into developing strong roots instead of flowers and seeds. You will probably want to plant some annuals each year for more color but your perennial should be your basic landscape.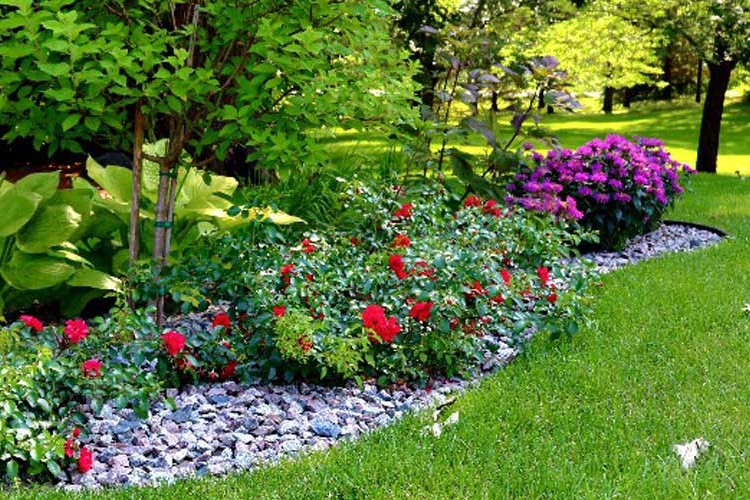 Create a Cooking and Dining Area
Keep your outside dining area reasonably close to an entrance of the inside kitchen. This will simplify preparing meals for large gatherings, which often require many trips between the two areas during cooking and cleanup. An outdoor area layout is as important to plan as an interior one. Along with picking the right grill and serving areas, plan for storage and organizational necessities, such as trash and recycling bins, and baskets to hold napkins, glasses, and cleaning supplies. Choose your components based on your budget, space, and lifestyle. Eating alfresco is one of the great joys in life. What could be better than sitting outside on a glorious afternoon or beautiful evening and breaking bread with family and friends? Creating the perfect dining experience is an art — you need marvelous meals, delicious drinks, glorious guests, and fantastic furniture.
Davis Landscape can help you achieve the landscaping you dream about! We help our clients with landscaping designs that fit their lifestyles and budgets!
Contact Us (859-781-0677) for More Information!
—
About Davis Landscaping
Davis Landscape Design & Installation has been providing landscaping services to customers in Northern Kentucky and Greater Cincinnati since 1965! We know that the landscape design process can be overwhelming, so we work with you tirelessly to better understand your vision. At Davis Landscape Design & Installation, we're on your team and we know how to listen and deliver.
>> Learn More / See Our Work