While plain gray concrete is still the most often surface installed, there are numerous decorative concrete alternatives. And the best part is that most of the options all work just as well as an existing walkway. The concrete industry has rapidly developed many decorative products that can be applied to existing plain concrete walkways. The paths and walkways in your landscaping can be more than just a way to get wherever it is you are going, They can provide much-needed curb appeal to homes and buildings. Use your artistic expression in a multitude of decorative options. There many options to choose from. We would like to introduce you to a few of the ways you can enhance your concrete design.
Stamped Concrete
Stamped concrete, commonly referred to as patterned or imprinted concrete, is concrete that is designed to resemble brick, slate, stone, tile, and even wood! Hundreds of patterns are offered that create an economical replica of more expensive materials while maintaining an authentic look. Stamped concrete has become the most popular decorative surface treatment. Colors and patterns for stamped concrete can be chosen to blend with other hardscaping elements around your home.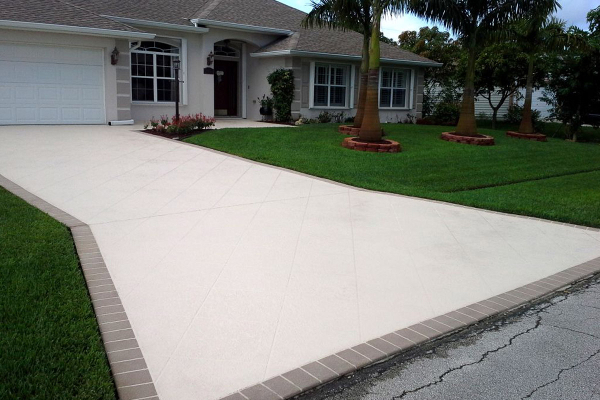 Resurfaced Concrete
Cover up surface imperfections in your existing concrete flooring or turn plain slab into something fab. With resurfaced concrete, commonly referred to as concrete overlay or decorative overlay, you can give any concrete surface a custom makeover at a much lower cost than removal and replacement.
Stenciled Concrete
Stenciled concrete walkways create decorative paths with textured surfaces that range from brick patterns to random stone designs. Unlike stamped concrete with its deeper indentions, stenciled concrete creates a flatter surface that lessens trip hazards. Because the stencils mask off the underlying surface, they leave behind realistic mortar joints the color of the gray concrete base. Stencils for concrete come in a wide array of patterns, ranging from running-bond brick to stone, slate, and tile.
Exposed Aggregate Concrete
The decorative process of exposing aggregate has been around since the early 1900s, well before pattern stamping, stenciling, and decorative overlays became trendy. But this method is far from being ready for retirement. An exposed aggregate finish offers numerous advantages. Pathway and walkway often incorporate this colorful pebble-like finish not only for its beauty but also for its highly slip-resistant walking surface. Exposing the aggregate in concrete allows you to achieve spectacular decorative effects at a reasonable cost because few materials are required. you can also add stones in contrasting colors or by combing the areas of smooth and exposed aggregate finishes for a more dramatic look.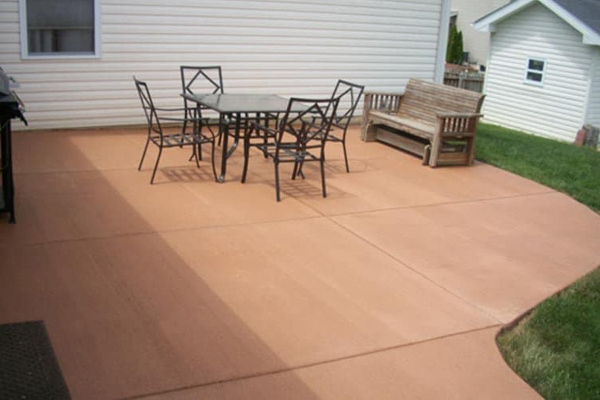 Colored Concrete Trends
There is no need to settle for a ho-hum gray concrete with the many options available today for imparting permanent color. Coloring usually goes hand in hand with stamped or stenciled concrete, allowing you to replicate the hues of natural stone. Chemical stains are the most popular method of coloring. Many coloring methods provide a myriad of shades to choose from, allowing you to pick a color that will best complement your home and landscaping.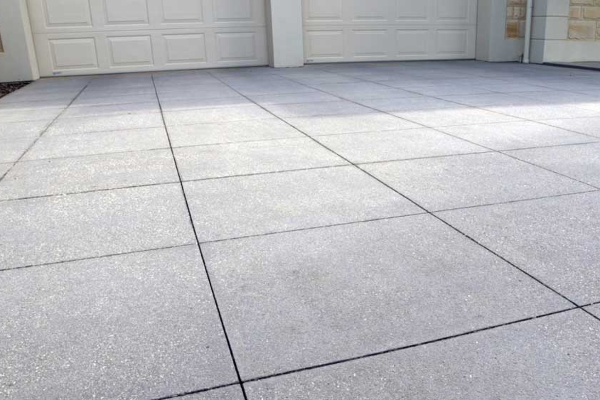 Decorative Concrete Scoring and Saw Cutting
With concrete saws or hand tools, permanent patterns can be sawed or grooved into a walkway or sidewalk surface, and then enhanced by color to create distinctive graphic effects, ranging from corporate logos to elaborate works of art.
Whatever application you choose, you can now achieve a nearly endless variety of decorative concrete outcomes. Thanks to the wide selection of products, methods, and colors available on today's market, professional landscaping services can craft stunningly artistic results for their customers.
Davis Landscape can help you achieve the landscaping you dream about! We also help our clients with hardscapes such as retaining walls, patios, walkways, driveways, outdoor kitchens, fire pits, & more!
Contact Us (859-781-0677) for More Information!
—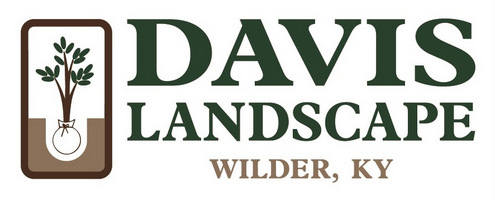 About Davis Landscaping
Davis Landscape Design & Installation has been providing landscaping services to customers in Northern Kentucky and Greater Cincinnati since 1965! We know that the landscape design process can be overwhelming, so we work with you tirelessly to better understand your vision. At Davis Landscape Design & Installation, we're on your team and we know how to listen and deliver.