One of the best things you can do for your garden is to mulch it. In doing so, you are creating a protective barrier around your plants and over the bare soil. Your barrier can consist of an assortment of decomposing organic materials that include… bark, woodchips, straw, pine needles, leaves, grass clippings, cocoa beans. You can also use non-decomposing, inorganic materials like black plastic, landscaping fabric, pebbles, river rock, and rubber mulch. The following will give you tips on how your garden and landscaping can benefit from mulching…
1: Limit the Amount of Weeds
Mulch can be used to minimize the amount of weeds that grow in the open spaces of your garden. As mentioned, the mulch will serve as a barrier, reducing the amount of sunlight that can make its way to the weeds enabling their growth.
2: Absorbs & Retains Water
When you use organic mulch, it will absorb water. Both organic and inorganic mulches are able to cover the soil and keep water from evaporating. It is vital to your plants that they are able to retain moisture when it is hot and dry. Not only will this allow you plants to absorb and retain water, it can also help lower your water bill.
3: Keeps Soil From Eroding
Not only will mulching trap water in the soil, it can also prevent rain water from washing away your soil. How? By helping break the fall of the water and lessening the impact that the water has on the ground when it hits.
4: Releases Nutrients into the Soil
Mulch helps to keep nutrients in the soil from being washed away in the rain. But if you are using organic materials, it will also release nutrients into the soil as the organic material decomposes on the surface.
5: Deters Pests & Insects
If you use certain types of mulch you can deter certain pests. Cedar bark in particular has natural oils that serve as an insect repellant. If you want the best results, we suggest finding a mulch with a strong fragrance as it will put off a scent that is sure to keep those pests away. However, be cautious as some mulches actually attract insects into your garden– and sometimes your home. Take the time to research which type of mulch will give you the results you are hoping for.
When you add mulch to your garden, do not pile a large amount against the trunk or stems of the plants. Not only can this be smothering but it also can create issues with insects and disease. Using a deep layer of mulch can also cause problems so it is recommended that no more than 4 inches in depth of mulch is used in your garden.
6: Invite Earthworms In
Not only does organic mulch help provide nutrients to the soil but it also invites earthworks into your garden. Why is that a big deal? Having earthworms as residents in your garden will help improve the structure of the soil and nutrient cycling. The healthier the soil, the healthier the plants above.
7: Creates a More Finished Look
Mulch will make your garden look more complete as it fills in the vacant spaces. It is also the easiest filler to keep up with in comparison to grass, groundcovers, and other fillers that require more routine care like mowing, weedeating, and watering. Mulch is also not in competition for resources and nutrients– it doesn't need them but can instead provide them.
Davis Landscape can help you achieve the landscaping you dream about! We also help our clients with hardscapes such as retaining walls, patios, walkways, driveways, outdoor kitchens, fire pits, & more!
Contact Us (859-781-0677) for More Information!
—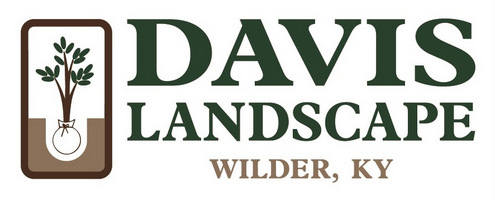 About Davis Landscaping
Davis Landscape Design & Installation has been providing landscaping services to customers in Northern Kentucky and Greater Cincinnati since 1965! We know that the landscape design process can be overwhelming, so we work with you tirelessly to better understand your vision. At Davis Landscape Design & Installation, we're on your team and we know how to listen and deliver.