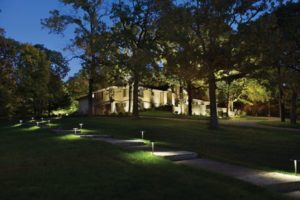 A little outdoor lighting goes a long way and makes a big impression. A landscape lighting professional can design and install a lighting system that is functional and beautiful at the same time. Landscape lighting located near a building with electricity can easily be integrated into your home's wiring system and solar landscape lighting is an option for areas not close to electric wiring.
3 Types of Lighting Based On Function
Overall Lighting – Overall lighting provides illumination for a whole room or space.
Task Lighting – A specific purpose such as to light a path or driveway.
Accent Lighting – A way to draw attention to an object or area.
Best Places For Outdoor Lighting
Paths – A lit path is welcoming and needed
Entries – Lights on each side of your main doors is a good idea
Driveway – Low-voltage driveway lighting makes it easy to get in and out at night
Steps – Steps need to be lighted for safety reasons
Decks and Patio – Maybe you need outdoor lights for a cooking area or railings or seating areas.
Gazebos, Pergolas, or Trellises – Lighting is a good way to highlight an interesting element of your outdoor landscaping
Architectural Features – Accent the best of your architectural features with a wide beam of light to wash over the wall and have it glow.
Professional Positioning of Your Outdoor Lighting Means Everything
The position and shielding of your outdoor lighting is very important and landscaping professionals can help with both. Landscaping professionals can also make sure your light sources aren't too big or bright in the wrong areas to keep everyone safe from glare.
See the Results of this Outdoor Lighting Installation
Davis Landscape can help you achieve the landscaping you dream about! We also help our clients with hardscapes such as patios, walkways, driveways, outdoor kitchens, fire pits, & more!
Contact Us (859-781-0677) for More Information!
—
About Davis Landscaping
Davis Landscape Design & Installation has been providing landscaping services to customers in Northern Kentucky and Greater Cincinnati since 1965! We know that the landscape design process can be overwhelming, so we work with you tirelessly to better understand your vision. At Davis Landscape Design & Installation, we're on your team and we know how to listen and deliver.