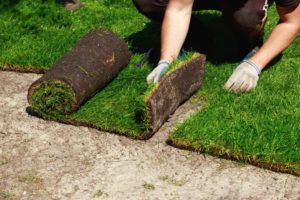 While installing sod is not a impossible task, it does require some physical labor and know-how. It's not a task for an amateur but we want to layout what is involved so you can make the best decision about wanting sod or laying it. The following are the 6 main steps to installing sod for your lawn…
#1: Preparing Your Soil
You might be quick to think that the first step is to purchase the sod, but before you do that, you must prepare your soil. Soil preparation is vital to the success of the sod transplant. Preparing your soil takes time, so do not order your sod until you are closer to laying it. It is best to wait until you finish all of the prep work before you place your order. If you are getting sod because your old grass died, wait. It is important that you figure out why that grass died before attempting to grow anything new to avoid the same happening again. So grab your investigator tools and use them to determine what went wrong so that you do not waste your time, money, and resources on a new lawn just for it to do the same thing.
Reasons Lawn Cease to Grow
Excessive Shade
Inadequate or Excessive Water
Poor Mowing Practices, such as mowing too high or low, or using worn out equipment like a mower with a dull blade
Dense Soil
Turf not appropriate for region
What Can You Do?
Assess how much (or how little) sunlight your lawn is receiving. Be sure that you are laying the new sod in an area where it will receive sufficient sunlight.
If you have an irrigation system or sprinkler, monitor how much water it is putting out as it runs.
Have a soil test completed. This is the best way to determine what your soil is lacking so that you can purchase necessary fertilizer and/or other remedies. Sample tests usually ask that you gather and mix soil samples from multiple spots in your yard. If your entire yard is a loss, you might consider having multiple soil tests completed as issues that are occurring in one area of your lawn might not be occurring in another.
When you get your results from the soil test, adhere to the recommendations. This will likely mean adjusting the soil's pH level and adding vital nutrients.
Another tip, use a trowel or probe to dig deep into your soil so that you can discover just how many inches of earthy soil your dealing with. If it is only a thin layer, you might think about adding a layer of topdressing (add one to two inches of organic matter by blending compost with topsoil).
#2: Handling Old Soil
If your lawn only has a thin layer of old soil, use a flat shovel to scrape it off. You may even use chemicals to take of the removal but be cautious if you decide to go this route. Products that contain glyphosate, are effective and affordable but have become controversial as they contain an increased level of toxicity and have been linked to cancer. Manufacturers have made a conscious effort to find an effective alternative that does not contain glyphosate. You could also use a rolotiller to rolotill what is left of the yard into the dirt. If you have a sprinkler system, be sure to mark where your sprinkler heads are located. However, this method might not be the best solution as you could potentially spread weed seeds and living roots beneath your new lawn. This creates a competition for nutrients, which is something turf that has not established itself yet does not need. Avoid installing new sod over your existing grass. It is imperative to the success of your new lawn that the sod receives soil-to-soil contact. This is the best way to ensure that the roots are able to establish themselves. Your best bet for a healthy new lawn is to remove existing grass prior to installing new sod. Is your yard too large to do this by hand? Consider renting sod cutters or hiring a professional landscaper to take on the task.
#3: Tilling the Soil
If you remove the old lawn entirely or let it be, your next step is to till the area. With the passing of time, grass and the soil beneath it, becomes compacted particularly in regions where clay soils are common. Tilling allows you to break up the soil so that the new sod's roots are able to establish themselves. You may choose to fertilize the soil before you install your sod or opt to apply fertilizer on top of the sod after you lay it down. You will want to look at how much top soil you have. Sod is rather adaptable and will grow on many types of soil but you will see the best success on earthy soil, that is not too sandy or clay filled. Be aware of what chemicals are in the fertilizer you intend on using. Fertilizers that advertise they are designed to help new lawns grow often contain potent chemicals that are known to pollute waterways. Be sure to sweep up any excess that fertilizer that makes its way onto pavement back into the soil to keep it from making its way to a drain. Several states have banned applying fertilizers that contain phosphorous onto lawns unless they are new. This is because of the negative impact this fertilizer has when it pollutes waterways. Be sure to level the soil prior to installing sod. Failing to do so will leave your yard looking lumpy making mowing more challenging later. You will also want to be aware of curbs and sidewalks; any sod that lays too high near concrete tends to die out and die so you should use a rake or shovel to lower the soil beside concreted areas.
#4: Purchasing Your Sod
Sod does not have a good shelf life so it must be installed rather quickly after it is harvested. This varies between a couple hours and a couple days depending on the type of sod. Many consumers purchase sod in rolls. This sod will continue to try to grow and the heat that develops during this process may kill the entire roll of sod from the inside out. Turf companies generally do not guarantee sod that is not installed within a day as it is a living and perishable item. It is vital that you install the sod immediately to prevent it from drying out and decomposing. Be prepared before the sod is delivered so that you do not run into any problems. Turf companies typically charge per square foot or by the pallet so it is important that you measure the space appropriately. One pallet of sod generally covers 450 square feet, although this is not standard so be sure to ask. The best way to get a good, comparable estimate is by looking at the cost per square foot. Some pallets are cut into strips that are 16″ x 24″ which only covers a little more than 2.5 square feet, whereas grass rolls are cut into strips of sod that are 2′ x 5.' Sod is more expensive than grass seed but that is the price you pay for allowing to grow more quickly. Garden centers in your area will likely have the most-common types of sod on hand but if you purchase directly from a sod farm, you will be greeted with a better variety and more insight on what to expect.
#5: Installing Your Sod
Now that you have tackled all of the prep work, it is time to install your sod. Again… this is best down by landscapers who deal with sod all the time. It's a tough, dirty, hard work that most do-it-yourselfers are glad to leave to a professional. Begin by laying down your sod in narrow strips, beginning with the longest straight edge (like your house, sidewalk, or driveway). Continue to lay the sod in straight lines but be sure to stagger short ends to avoid having one big long stream. Not only will this look better but it will keep water from channeling and prevent the seams from opening and becoming exposed. Be sure that you secure the pieces tightly and keep from having loose gaps. Use a knife to cut pieces of sod to fit into gaps that may have been caused by the pattern of your brick or stone. Use the knife to cut around sprinkler heads. Be sure to remove any air pockets by using a lawn roller filled a third of the way filled. If your lawn has any sloped areas, you will need to stake them.
Mistakes to Avoid When Laying Sod
Purchasing your sod before you are ready to install
Allowing your sod to overlap
Leaving gaps between rolls of sod
Not stapling sod that is on sloped ground
Leaving the soil too high near concrete surfaces
Excessive or inadequate watering habits
#6: Fertilize & Water Your Sod
Be sure to monitor closely how often your sod needs to be water– you do not want all of your hard work and effort to go to waste. It is important that you water you new sod once it establishes itself. Water rather lightly while it establishes itself, checking to be sure that water is going through the sod and at least one or two inches into the soil to create a a perfect lawn.Avoid letting it become dried out or heavily saturated. Both of these situations could diminish the health of your lawn. In this initial phase, you will want to routinely lift up the corners of your sod to monitor how much water it is getting. Once you notice roots have made their way through the lawn and into the surface, stop lifting the corners as this could be damaging. During this transition, you will go from watering routinely to a deep water either early in the morning or once the sun has set. This keeps the sun from evaporating as much water during the process. Do not walk on your new lawn early on as it can damage it. Allow your lawn to grow at least 4 inches before you decide to mow it. Do not cut more than one-third of your lawns height in one mow as this might also lead to the downfall. Mowing tall helps to promote a strong root system that is needed to continue growth.
Davis Landscape can help you achieve the landscaping you dream about! We also help our clients with hardscapes such as patios, walkways, driveways, outdoor kitchens, fire pits, & more!
Contact Us (859-781-0677) for More Information!
—
About Davis Landscaping
Davis Landscape Design & Installation has been providing landscaping services to customers in Northern Kentucky and Greater Cincinnati since 1965! We know that the landscape design process can be overwhelming, so we work with you tirelessly to better understand your vision. At Davis Landscape Design & Installation, we're on your team and we know how to listen and deliver.