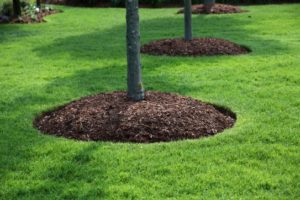 Summer brings outdoor barbecues and backyard play for children of all ages. Great family and friends time of the year with warm weather, poolside parties and with all this fun comes the need for major use of the family backyard. Homeowners can find simple ways to preserve their gardens, lawns and flowers throughout the season and enjoy the time and effort they have put into the maintenance. As many people spend more time outdoors during the summer months than any other time, follow these tips for a healthy, entertainment-worthy yard…
Mow Regularly and Maintain a Schedule
Use your mower to maintain that height as closely as possible. Cutting your lawn too short can be just as damaging as letting it grow too tall. The basic rule of mowing is to never cut more than one-third of the leaf blade. Generally, this means mowing about once a week. Remember that grass needs to stay at a certain level to fight off drought and other lawn hazards. When in doubt, stay on the high side of of that mower's blade settings.
Brighten Up Your Yard By Using Color
Perennial plants and flowers make a yard look better and better with age because they come back every year. Fortunately, there are always new perennials to try and new techniques to learn. Choosing the right plants for your garden and keeping them growing is what makes perennial gardening such an enjoyable journey for the gardener. Their care includes dividing them and knowing when to cut them back after the growing season. With careful attention, perennials will be a mainstay in your flower beds. When it come to the art of landscaping, color is king. Use drought-tolerant plants, which are popular because they conserve water and require low – maintenance. In addition to the flowers consider planting shade trees throughout to add texture to the landscape. Add some window boxes and pots on the porch and a trellis or corner of a fence for climbing flowers can serve as a beautiful effect. Consult a professional landscaper to help you pick the right plants and plant in the right places and in the right ways.
If You Mulch Right You Can Water Less
One way to keep your flowerbeds and tree roots cool this summer is to spread a rich layer of mulch. The mulch holds in some moisture, slowing the evaporation process and keeping too much water from draining away. Organic mulches like leaves, shredded paper, straw, or wood chips works well for keeping your plants, shrubs, and trees hydrated. Instead of doing short, frequent watering sessions, opt for watering periods that are farther apart but longer. Give the earth a good, thorough soaking, right down to the deepest roots, and your lawn will stay moistened much longer.
Feed and Fertilize
One of the most important things you can do for your lawn is to feed it. A well-fed lawn is healthier, which means it has a better root system to combat heat, cold, drought, mowing, foot traffic, and other stresses. While feeding your lawn once a year will improve its condition, feeding it 4 times a year will make it even healthier and more beautiful. Make sure not to over-fertilize your lawn! When you over fertilize, the salts build up in the soil and cause a drying effect, which can result in the grass turning yellow or brown. This process is called "fertilizer burn." Fertilizer burn isn't always fatal, and it's hard to predict whether or not your lawn will recover. Consult a professional landscaper to get the right mix of fertilizer and to lay it at the right times to have the healthiest law possible.
Get Rid Of Garden Pest
While some insects can be beneficial for certain plants, gardeners are all too familiar with the destruction of many tiny crawly critters. A healthy, well-tended lawn is a beautiful thing, but like any planting, it can experience a variety of problems. Chewing insects, like grasshoppers, may attack grass blades, and burrowing critters, like gophers, may munch through grass roots and cause green tops to die. It's not too difficult to spot dying patches of lawn. It is often a challenge, though, to detect what is causing the problem and how to treat it. With that in mind, you can deal with many of these insects by using organic gardening. You can use these products with confidence, knowing they won't hurt the environment. Consult a professional landscaper to treat your flowers, lawn, and trees.
In the Summer, Do Not Water During The Hottest Part Of The Day
The best time of day to water your lawn is when air temperatures are lower and there is dew on the ground. Temperatures are usually at their lowest during the late evening or early morning. Most lawns benefit from watering two to three times per week. The roots to your plants, grass and trees will thank you. During the hotter parts of the day, many plants go dormant. This means that water consumption is neither adequate nor efficient.
Davis Landscape can help you achieve the landscaping you dream about! We help our clients with landscaping designs that fit their lifestyles and budgets!
Contact Us (859-781-0677) for More Information!
—
About Davis Landscaping
Davis Landscape Design & Installation has been providing landscaping services to customers in Northern Kentucky and Greater Cincinnati since 1965! We know that the landscape design process can be overwhelming, so we work with you tirelessly to better understand your vision. At Davis Landscape Design & Installation, we're on your team and we know how to listen and deliver.