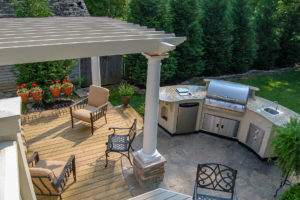 Now is the perfect time for planning. For those who are unfamiliar with the term, hardscaping is the addition of non-living materials into a landscape, materials such as wood, stone, metal, and concrete. Hardscape features serve as compliments to your softscaping, that is the trees, shrubs, and flowers that provide natural beauty. Some hardscaping projects are smaller in scope and others are grand, taking significant planning and installation time. Following are some tips and tricks for your property.
Keep In Mind Your Structures Existing Building Material
Be consistent. If you have a wall made of large river stone and want to add a patio, keep the stone color and size consistent. You want a natural flow and not the feel of being disconnected.
Each Hardscape Feature Adds Beauty, Style, And Value To Your Landscape
Make sure your hardscape feels and looks like it was a part of the landscape from the beginning, not an add-on. Your hardscape project will be built out of stone, cement, wood, or tile. Those materials have had a rigid makeup. To make them feel natural, avoid hard 90-degree corners, straight lines, or bulky designs.
Think About Drainage
Backyard drainage design is essential and not something to ever overlook; so, make the right choice. Your new hardscaping will be taking away grass and soil which soak up rain. Without a proper drainage plan, the new hardscape area will collect water causing damage.
Winter Is The Perfect Season For Planning Hardscaping
With the winter season here, it is a good time to work on hardscaping projects that can provide low maintenance come spring. Many plants are dormant, so at this time you have good visibility of the space in your landscape. But don't think of this area with only hardscaping materials. Plan your project with greenery that blends in with the hardscaping for the perfect outdoor setting.
Working Hardscapes Into Your Landscape Design
Your hardscape area needs to serve a purpose. Add a patio with outdoor furniture. Patios offer delightful places for entertaining, getting lost in the company of a good book, and memorable family-together time. Not only will a patio increase your outdoor living space, but it also increases the value of your home. Decks offer the same wonderful opportunities for enjoying your outdoor space as patios do, but higher up. They provide vantage points from which to appreciate your landscape. When adding a deck, it's best to consider the style of your house so that the addition either blends in with or complements your home. Fire features are one of the most common trends in outdoor living today. They offer a warm—both literal and figurative—place for friends and families to gather. They help create a mood for outdoor living, a mood that can be energized, relaxing, or romantic. Fireplaces are the ideal option if you plan to entertain smaller groups of people or if you are looking for a strong statement piece for your patio. Fire pits, generally the less expensive fire feature, are ideal for more casual entertaining, particularly of larger crowds.
Let your new hardscape area be an extension of your living space. A place to enjoy the outside and entertain with family and friends.
Contact Us (859-781-0677) for More Information!
—
About Davis Landscaping
Davis Landscape Design & Installation has been providing landscaping services to customers in Northern Kentucky and Greater Cincinnati since 1965! We know that the landscape design process can be overwhelming, so we work with you tirelessly to better understand your vision. At Davis Landscape Design & Installation, we're on your team and we know how to listen and deliver.