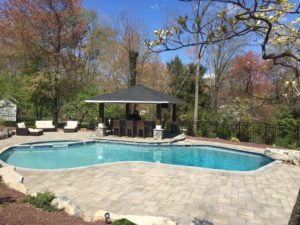 The best time to update your swimming pool and pool deck is during the off season. If you are like many homeowners with older in-ground pools, it is likely that you have a concrete pool deck. While concrete decks do serve their purpose, it is not as user friendly and lacks the wow factor. Brick, stone, and pavers are being used to revive pool decks. These can be installed on top of your existing concrete, even if there are some minor cracks making the renovation easier and more cost efficient. Below we will discuss how to make your dated pool area new again.
Installing a Paver Pool Deck
The installation of a paver pool deck starts out by adding a base layer of sand then placing the pavers on top. Sand is used to absorb the shifts that are created by cracks in concrete so that they do not damage the new pavers. Use polymer sand to bond the joints firmly together.
Why concrete pavers are preferred by many homeowners…
Easy to Walk On – If you ever ran on wet concrete, you know how slippery it can be when saturated with water. Paver pool decks are not as slippery as each paver offers a textured surface allowing your feet to grip to the surface. The joints allow moisture to be absorbed and moved away from the surface which also makes the surface cooler and easier to walk on.
They Look Good – There are so many design options to choose from when installing a paver pool deck. We can help you create the pool deck of your dreams customized to the shape of your pool and the space available.
They Are Durable – Paving stones can withstand the heavy foot traffic and do not become discolored or break down as a result of exposure to the sun or chlorine from pool water. You can be sure that your investment will last and provide a safe but beautiful walk space for all of your pool goers.
They can be suited to match any design scheme. Pavers come in a variety of colors, shapes, and sizes. This allows them to blend well with any of your existing hardscapes. Many homeowners chose to mix and match paver designs to create a customized look.
Safe Surface Traction – Textured pavers have a smooth feel that is easier to walk on, but because the surface does have texture, it is less likely that anyone enjoying your pool will slip. Pavered pool patios often meet or exceed the traction guidelines as set by the Americans with Disabilities Act (ADA).
Pavers Have Many Uses – Pavers are not limited to just your pool deck. In fact, they are quite versatile and can serve multiple purposes in your outdoor living space. Use pavers to create seat walls, planters, and walkways. And if in the future you want to expand your pool deck, simply add more pavers.
Easy to Maintain – Owning a pool can come with its fair share of maintenance. Should you need to repair plumbing or wiring around your pool, you can lift pavers, make the repair, and then replace the pavers. This prevents you from having to demolish your pool deck or a large portion of it. Concrete pavers are resistant to algae growth and mildew. Routine pool deck maintenance includes: cleaning up debris, rinsing away dirt, applying UV resistant sealer, and plumbing maintenance.
Creating Your New Pavered Pool Deck
Making your dated pool deck new again will take time and patience but it will certainly be worth it. Before you decide to take on the task alone, here are a few requirements for a successful installation…
Choose Your Stone – Take the time to find pavers that are more suitable for wet environments. Note: pool decks often lack shade. For that reason, we advise using light colored pavers as they won't absorb as much heat on hot summer days.
Get Creative – Use unique patterns and layouts to turn basic pavers into a customized work of art.
Leveling the Surface – It is important that your pool deck is level as this is the only way to ensure that water is able to drain properly. Level surface makes cleaning your pool's drain easier for you, as well as repairmen should your system need fixed.
Precise Cuts – Getting the perfect cut comes skill, training, and proper tools. With an investment this big, you will want to make sure the job is done right.
Spacing the Pavers – Proper spacing means knowing just how many pavers you will need.
Handling Curves and Angles – Sticking to the basic squares and rectangles can seem kind of boring. Spruce up your pool deck by bringing out your creativity and implementing curved and angled designs.
Davis Landscape can help you achieve the landscaping you dream about! We also help our clients with hardscapes such as patios, walkways, driveways, outdoor kitchens, fire pits, & more!
Contact Us (859-781-0677) for More Information!
—
About Davis Landscaping
Davis Landscape Design & Installation has been providing landscaping services to customers in Northern Kentucky and Greater Cincinnati since 1965! We know that the landscape design process can be overwhelming, so we work with you tirelessly to better understand your vision. At Davis Landscape Design & Installation, we're on your team and we know how to listen and deliver.