It's a new year and Spring will be here before you know it. Wouldn't it be nice to update your outdoor space? You don't necessarily have to tear out all the old or do a major renovation. You can spend very little and spruce the area up nicely.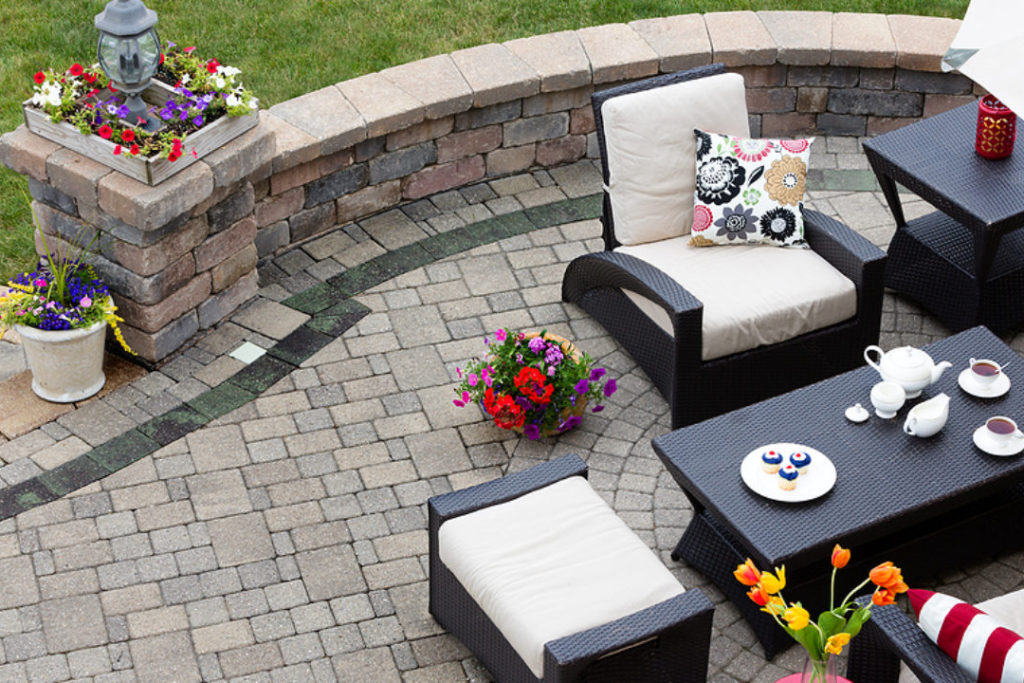 Paver Patio
If you currently have a cement patio, consider replacing it with pavers. This will provide a more updated and modern look to your lawn space. Pavers are moderately priced and easy to install. You can create a custom look with the many different shapes, styles, and sizes they come in. There is also no need to tear out your existing concrete patio, as you can place the pavers directly on top of it. Clay pavers give a more classic style. They are affordable, durable, and will last for many years. This is the best option to place on an existing concrete patio. If you don't have one in place, it would be best to lay a base before installing the pavers.
Stone Patio
If you are looking for a more natural appearance, stone, such as flagstone creates a beautiful hardscape floor. Each stone will be a different shape, size, and color since it's not man-made. It can be a little more difficult to install than pavers since they are heavy to lift.
You may not want to do anything with your patio floor but integrate some stone in some other areas. Build a firepit or fireplace with stone and this will give your patio a unique, cozy, and natural appearance.
Seating
Adding additional seating can create a more inviting and cozy space for friends and family. You can build a custom bench or add some lounge chairs. Make sure they are made with weather durable materials.
Color
If you want to update and have a small budget, add color. You can paint some old furniture or add some new throw pillows. This will be cost-friendly, little work, and create a whole new look.
Lighting
Having a space that you can enjoy during the day and at night is ideal. Adding just the right amount of light to create a cozy space can be tricky. A small sconce on the side of the house will likely not be enough lighting to enjoy dinner, and bright overhead lights won't provide the ambiance you are quite looking for. Get creative and you will find just the right amount for any setting.
An easy way to light up the patio is with rope lighting. They will give you just the right amount of light for a pathway or under stairs. If you have a pergola or gazebo, add an overhead light fixture.
You can be as simple or complex with your hardscape as you wish. With creativity and imagination, you are sure to be able to get that outdoor space you always dreamed of.
Contact Us (859-781-0677) for More Information!
—
About Davis Landscaping
Davis Landscape Design & Installation has been providing landscaping services to customers in Northern Kentucky and Greater Cincinnati since 1965! We know that the landscape design process can be overwhelming, so we work with you tirelessly to better understand your vision. At Davis Landscape Design & Installation, we're on your team and we know how to listen and deliver.