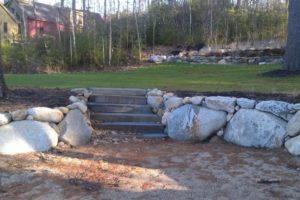 Hardscaping is adding non-living elements to your landscaping like brick and stone walls, walkways, small retaining walls, wood arbors, patios, flagstone pathways, or driveways. The mixture and transition between your softscapes and your hardscapes is what brings your landscaping ALIVE and FUNCTIONAL! The following is why working on hardscapes is best done in the cooler months…
You Will Do Less Damage To Softscapes During the Cooler Months
No matter how thoughtful and delicate you try to be, you can cause damage to the living elements of your landscaping as you add or fix your hardscapes. This why it's best to work on hardscapes while your living elements (grass, plants, shrubs, trees, and more) are dormant and less susceptible to damage and disease. For instance, plywood boards laid down for wheel barrows or equipment will cause less damage in the winter.
You Can Save Money and Time On Your Hardscape Project
Most landscapers are less busy in the wintertime so hardscape projects can be completed for a bit less and quicker during the winter. During the the winter months, landscaping businesses are eager for work. You will get the best crew of the landscaping companies because only the best and most experienced crew are kept on through the winter.
The Project Will Be Finished In Spring When You Want to Enjoy It The Most
Family and friends naturally will enjoy your landscaping the most in the spring, summer and early fall so get your hardscape projects completed in your entertaining downtime (Late Fall, Winter). You won't want to look at mud and construction once the entertaining season begins or is in full bloom.
Professional Hardcaping Tips
Don't set mortar below 40 degrees
Cost stone and masonry with sealant before the first snow.
Deicers can stain and discolor your stone and cement.
Use only plastic snow shovels on your hardscapes
Davis Landscape can help you achieve the landscaping you dream about! We help our clients with landscaping designs that fit their lifestyles and budgets!
Contact Us (859-781-0677) for More Information!
—
About Davis Landscaping
Davis Landscape Design & Installation has been providing landscaping services to customers in Northern Kentucky and Greater Cincinnati since 1965! We know that the landscape design process can be overwhelming, so we work with you tirelessly to better understand your vision. At Davis Landscape Design & Installation, we're on your team and we know how to listen and deliver.
>> Learn More / See Our Work