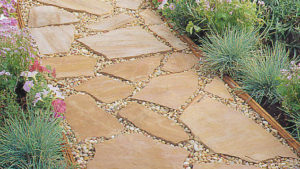 There is sometimes no better way to dress of your landscaping then with a natural stone path that leads your guest to and from certain areas of your house, patio, pool, and other areas. The following are some of the steps a professional landscaper will follow to create a stone path in your yard…
Define the Path – Landscapers use a hose or rope to layout the shape they want for the path. They will make the path at least 3 foot wide.
Cut in the Path – Landscapers use a flat shovel or an edger to cut away grass and roots where they want to lay the path.
Dig – They will dig down about 4 inches and remove the dirt from the path they have laid out. When they run into large roots, they use loppers to cut them away.
Edge – They will install edging on each side of the walkway. Landscapers will use something like 2×4 piece of lumber along the edging to keep the path the width they want.
Lay Fabric – They will cover the bottom of the walkway with some kind of filter fabric
Lay Pea Stone – Most will lay a 4 inch layer of pea stone over the fabric and rake it smooth
Lay Large Stones – Then the stone will be laid into the pea stone. Press it into the pea stone and use a rubber mallet to set it.
Davis Landscape Hardscaping Services
Davis Landscape offers a full array of hardscape design and installation services. Patios, Walkways and Garden Paths, Driveways, Firepits, Outdoor Kitchens, Seating walls,etc… These are just a few of the hardscape options to design and install for you!
Davis Landscape can help you achieve the landscaping you dream about! We help our clients with landscaping designs that fit their lifestyles and budgets!
Contact Us (859-781-0677) for More Information!
—
About Davis Landscaping
Davis Landscape Design & Installation has been providing landscaping services to customers in Northern Kentucky and Greater Cincinnati since 1965! We know that the landscape design process can be overwhelming, so we work with you tirelessly to better understand your vision. At Davis Landscape Design & Installation, we're on your team and we know how to listen and deliver.