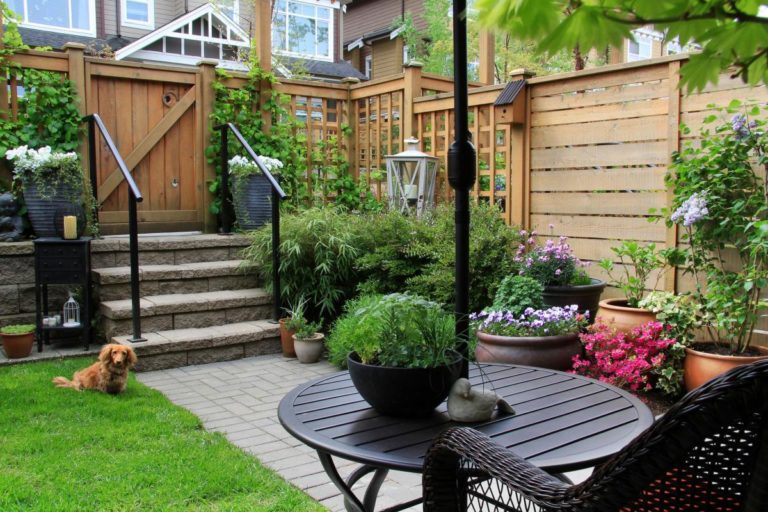 Weather you are a novice at gardening or a expert we would like tell you about some new landscaping trends. Probably the easiest and least expensive thing to do is to use trendy new colors for fences and outdoor structures. Bold colors are the trend, giving a contrast between the green garden and a dark fence or structure. Add a slice of drama to your backyard landscape by painting your fences and structures dark grey, green, or blue.
Larger Homes and Smaller Lots
The increased cost of residential lots has resulted in building a larger home on a smaller lot. Yards are shrinking. Landscaping smaller spaces can require just as much planning, and in many cases, more careful design considerations than landscaping a larger half-acre lot. The answer is dwarf evergreen shrubs. They are low maintenance and well suited for smaller yards. Some suggestions for flowers for color would be Bobo hydrangea known for its large clusters of white flowers, is considered a dwarf, reaching only about 3 feet tall with a similar spread. With pruning, it can be kept even more compact. Try Dwarf perennials there are several to choose from and perennial ground cover is a good choice for gardeners who want to grow low maintenance plants.
Eco-Friendly Alternatives to a Grassy Lawn
Americans have a love affair with sprawling green lawns. Although originally created by European aristocrats in the 17th century as status symbols, today's lawns are a symbol of the American dream. Unfortunately, they also can be a source of unnecessary burden for homeowners, which has led to a recent, and growing, interest in alternatives to grass in backyards. Droughts, water shortages, and rising environmental concerns on fertilizer use are taking their toll. Lawn alternatives are trending this summer. Plant grass mixes that don't need mowing and prairie-type grasses.
Use Natural Materials
After years of simplistic style landscaping and hardscaping, there has been a renewed interest in the use of natural materials in the landscapes. Homeowners are looking more and more for organic styles in their outdoor living space. Rather then the clean designs of the past, homeowners want their gardens to look more authentic and fit more smoothly into the environments where they are installed. Clients are looking for plant material that already grows naturally. Stones that are sourced locally, and pavers that are more irregular in shape giving way to a more organic outdoor spaces.
Edible Hanging Gardens
Taking part in gardening activities helps promote healthy habits… including spending time outdoors, being physically active, and consuming homegrown vegetables. A hanging edible garden is a new trend this summer, it will be out of your pets reach and as the plants grow vertically, they don't need a large backyard. Your pet may not be able to reach it but birds and other pests will still be a problem so try to use environmentally friendly pest repellent that will keep your hanging garden safe for you to enjoy.
Color Blocking Your Garden
When you get right down to it gardens are really about color. That color can come from flowers, foliage, bark, pottery, furniture, fences and even artwork, but in the end it is all about color. Our gardens are meant to enhance our lives and to make our homes look better. Color blocking is a trend that found its way from women's fashion and into outdoor living spaces. The idea is to use blocks of colors to highlighting a plant or area. Plant a wall of potted plants as a backdrop to a outdoor sofa. Paint a wall or use porch curtains or a solid color outdoor rug for highlighting areas.
Programmable Watering
Technology is the trend for watering your landscaping. A smart sprinkler controller is like a smart thermostat for your garden or yard. It optimizes your in-ground irrigation system by auto-adjusting to weather and soil conditions, making a healthy landscape easier while cutting water use. It adjusts to real-time weather conditions and integrates with many smart devices, yet remains simple to use. More advanced system can even text you if they detect a leak or malfunction.
Davis Landscape can help you achieve the landscaping you dream about! We help our clients with landscaping designs that fit their lifestyles and budgets!
Contact Us (859-781-0677) for More Information!
—
About Davis Landscaping
Davis Landscape Design & Installation has been providing landscaping services to customers in Northern Kentucky and Greater Cincinnati since 1965! We know that the landscape design process can be overwhelming, so we work with you tirelessly to better understand your vision. At Davis Landscape Design & Installation, we're on your team and we know how to listen and deliver.