Fire pits and fireplaces are the perfect way to entertain outside throughout the year. A professional landscaper can take your vision and turn it into a reality that your family will enjoy over and over! 
Custom Fireplaces
Sure… you could buy a pre-assembled fireplace and install it outside but your family won't get near the satisfaction from it that they could receive from a custom-built fireplace. One that fits your family's style and needs is essential. Remember that you are working outdoors where water and wind will erode anything that isn't built properly. You will want a landscaping professional to help you with this project.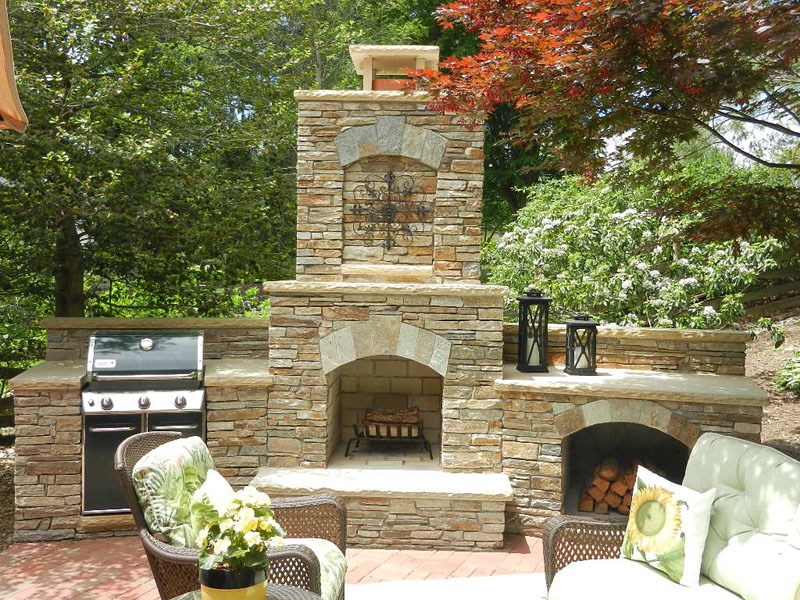 Custom Fire Pits
Fire pits are smaller than fireplaces and can range from steel bowls to a decorative chimney that has the ability to move around. Most families want a fire pit that naturally blends in with its surroundings, so a professional landscape design is key.
Safety and Design
Not only do you want a beautiful fire pit or fireplace, you will want to make sure it's safe and doesn't bother the neighbors. A landscaping professional knows the laws that govern building a fire place or fire pit and they can build them so that the smoke is not constantly billowing over into your neighbor's property. Landscape professionals can design and create a fire pit or fireplace that doesn't will impact your surroundings negatively.
Simple Steps To Pick a Fire Pit Design and Enhance Your Backyard
The fire-pit takes the entertainment outside. It provides a calming gathering space that provides a fun and natural way to entertain. Whether it's family s'mores nights or casual dinners with friends, a fire is a center of community. People naturally gather around a warm fire pit. You can bring your vision to life and create a fire pit for your own back yard. It is also the perfect area for the family to spend time together and for drinking a glass of wine with friends. The following are reasons to invest in a fire pit…
Enhance value to your home– Fire pits blend naturally into any landscape
Outdoor Entertainment – The fire pit allows you to entertain well into the night sitting around a cozy fire.
Repel Bugs – Fire-pits actually keep the bugs away from the party
Prepares Food – Enjoy having a wiener roast, toast marshmallow make s'mores, or anything else you can imaging on an open pit.
Which Design Is Best For You?
Built-In Fire Pit – With a built-in fire-pit you are getting a professional design that is permanent and built to your specific request. While it will be more expensive it is sturdier and unique to your home.
Prefabricated – A finished prefab fire pit makes it possible to get a custom built-in look without the work. The fire pit will be delivered in a finished state and your contractor can place it and hook up the gas source. When ordering a finished prefab fire pit, you will get to choose from a small selection of facing and cap options, usually including a few colors of stucco, brick stone, and tile. It is the middle price point, your customization options are far more limited.
Portable Fire Pit – The major benefit of portable fire pits is the ability to change placement around your yard. They are the least expensive of the three types of firepits. Generally, portable fire pits are made of metal. It's best to set a portable fire pit atop a fire-resistant surface such as metal, pavers, or bricks. Putting it directly on a wood deck or grass can be dangerous if embers fly.
What Type of Fuel To Use For Your Fire Pit?
Wood Burning – Wood burning fire pits add an air of ambiance to your backyard. You get the smokey smell and crackling of burning wood. Of course, you have to regularly chop or purchase the wood and store it in a dry place which can be a put off if you want low maintenance.
Gas Fueled – If you opt for the natural gas you will have to prepare for the permanence of a natural gas line installed in your backyard. Gas fire pits are a popular choice because they offer beautiful flames without the extra work and mess of a wood-burning fire pit. Instead of tending a smoky fire, flip a switch and enjoy the atmosphere of a fire pit without the stress.
Gel Fueled – If you want to avoid the sound, smell, and smoke of a natural wood-burning fire pit you can opt for a gel fueled instead. The downside is the unavailability of gel fuel and the lack of heat. Pop the top off the canister, light it, and slide it into place. Flames lick the ceramic logs, and some gels even can crackle like a wood-burning fire if you like that. Cooking directly over the flame is perfectly safe in terms of chemical emissions.
Propane – Propane will give ambiance without smoke in your backyard. Propane can be more pricey than other fuels. And cooking food over propane will not have as much flavor as food cooked over a wood-burning fire.
What Size Fire-pit?
The size of your fire pit is something that must be considered beforehand. If your fire pit is too small, it won't put off enough heat and it will be hard for more than a few people to circle round. If your fire pit is too large, the fire could easily get out of hand and guests will have difficulty conversing because the distance across the pit will require raised voices. three feet across is a good size for a more intimate layout. Height should also be taken into account. Above ground, fire pits average at about 12 to 14 inches tall. This is a perfect height in relation to most lawn furniture. Make sure there are ample walking space and enough room to move chairs closer or further from the fire. Seven feet of space on all sides of the fire pit is a plan. If you are building permanent seating a good rule of thumb is no more than three feet from the fire pit.
What Materials To Use For Your Fire Pit?
Hard rocks like granite, marble, or slate are much denser, and therefore less likely to absorb water and explode when exposed to heat. Other rocks that are safe to use around and in your fire pit include fire-rate brick, lava glass, lava rocks, and poured concrete. Whichever fill material you decide on, plan to use two to six inches of it. Facing material, like fill material, will need to be heat resistant. the exterior of your firepit is what is visible to you and your guest. Take time to consider what material and styling will fit well with your backyard oasis.
What Style of Fire Pit Do You Want?
Round fire pits tend to promote a campfire feel with guests sitting around a central point and conversing. If you decide on a custom built-in firepit your options are wide open so you could choose round, rectangular, square, or a hearth style.
Davis Landscape can help you achieve the landscaping you dream about! We also help our clients with hardscapes such as patios, walkways, driveways, outdoor kitchens, fire pits, & more!
Contact Us (859-781-0677) for More Information!
—
About Davis Landscaping
Davis Landscape Design & Installation has been providing landscaping services to customers in Northern Kentucky and Greater Cincinnati since 1965! We know that the landscape design process can be overwhelming, so we work with you tirelessly to better understand your vision. At Davis Landscape Design & Installation, we're on your team and we know how to listen and deliver.