Every time you spruce up your home, it's an investment and you want to be sure that you make the right decisions. Outdoor living spaces can be enjoyed year round so you want them to look great. As you work on the exterior of your home, you might choose to upgrade your driveway, patio, and walkways. These all add to the overall aesthetics of your home and depending on what products you choose can also add to longevity, functionality, and ease of maintenance. There are several options on the market to suit any design or budget. Choosing the perfect one can seem like a daunting task. This guide will help you decide between two of the most popular materials— stamped concrete and pavers.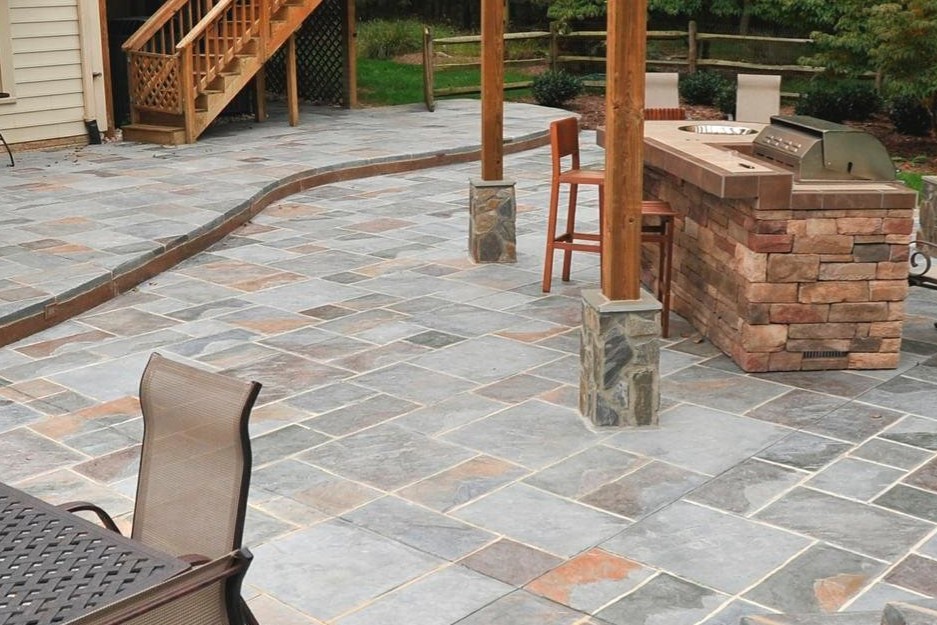 Stamped Concrete
Many consumers choose stamped concrete as it resembles high end materials at a fraction of the cost. Stamped concrete comes in an assortment of of textures, colors, and patterns allowing it to mimic the look of slate, flagstone, marble, weathered lumber, brick, and more. This allows you to accommodate any design goal while increasing the value of your home. Concrete is known for it's durability ensuring that it will last. It's also easier to install requiring less physical labor and time. Once the concrete is mixed, poured, and stamped, your outdoor living space will be something you are sure to be proud of and the envy of your neighborhood. Maintenance is something that you should always consider when adding new features to your home. Lucky for you, stamped concrete is required minimal maintenance after it is installed making it a smart investment both economically and environmentally. Whether you choose stamped concrete because it's customizable, resilient, or affordable, you won't regret it.
Pavers
Like stamped concrete, pavers come in an assortment of shapes, colors, and finishes. One noticeable difference is that they look more natural in comparison to stamped concrete. Pavers can be made from several materials including stone, minerals, clay, or concrete depending on your needs and desires. You are sure to find pavers to suit your style preferences. You can also get a more customized look based on the pattern in which they are laid. Lighter pavers are often chosen by homeowners to place around patios and pools as they are generally cooler. Others opt for earth toned pavers to create a natural look that pairs well with their landscape. This adaptability is one reason pavers remain a popular choice. Aside from being visually pleasing, pavers offer functionality. Unlike stamped concrete that has to be left to dry, pavers can be used immediately after they are installed. They also allow rain and snow to drain off the surface as they interlock with sand joints. This design provides adequate room for expansion and contraction that occurs naturally due to environmental changes. This makes pavers ideal especially in regions that experience drastic seasonal changes.
Beauty & Functionality Makes Outdoor Living More Enjoyable
Creating a beautiful and functional outdoor space doesn't have to be difficult. There are plenty of materials on the market that are both affordable and attractive. We know it's important that you find a product that is aesthetically pleasing while also getting the "biggest bang for your buck." Stamped concrete and pavers remain two of the most preferred choices on the market because they are offer customizable looks and durability. At Davis Landscape, one of our specialties is hardscape design and we love to help our customers find the perfect materials for their outdoor living spaces. Let us help you create a functional space that is beautiful and sure to last.
Davis Landscape can help you achieve the landscaping you dream about! We also help our clients with hardscapes such as patios, walkways, driveways, outdoor kitchens, fire pits, & more!
Contact Us (859-781-0677) for More Information!
—
About Davis Landscaping
Davis Landscape Design & Installation has been providing landscaping services to customers in Northern Kentucky and Greater Cincinnati since 1965! We know that the landscape design process can be overwhelming, so we work with you tirelessly to better understand your vision. At Davis Landscape Design & Installation, we're on your team and we know how to listen and deliver.