If you're like us, the first thing you notice when you pull into your drive is your lawn and landscape. At one point those plants that were once lined up right in front of your home may have looked better and those shrubs maybe haven't always been overgrown. It's time to make them look better. Most homes can really benefit from a few small-scale, high-return changes that make big improvements to the overall look of your home.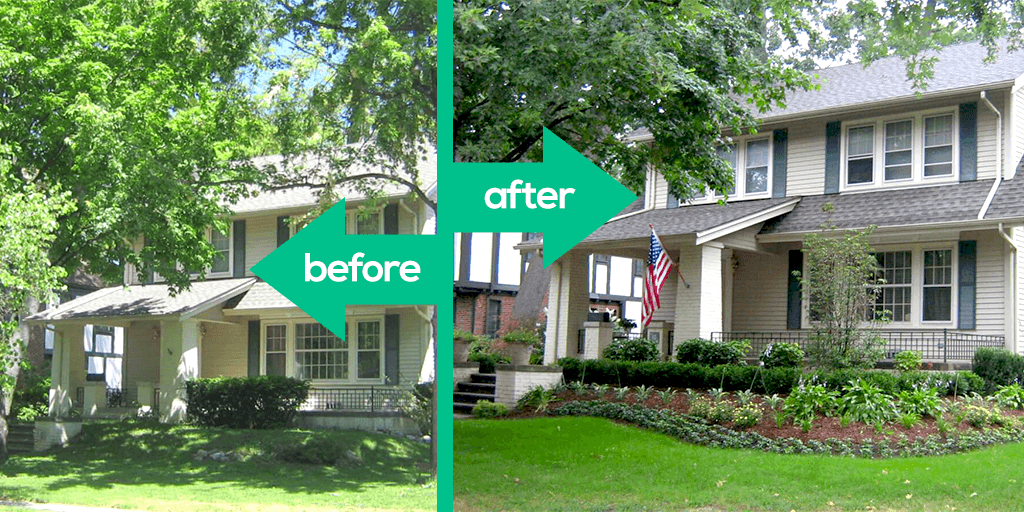 What Goes Into Making A Landscape Bed Look Beautiful?
Adding an assortment of plants that come in a variety of shapes and sizes to create visual interest is the first step. Keeping it simple is key. Professionally designed and installed beds often have a layered look that creates dimension and depth while being appropriately proportional for the size of the property. Planting beds come with multiple layers of finesse, from a single planting only a layer deep with regional perennials to oversized beds with layers and layers of plants in all shapes and sizes. The size of the bed and the number of plants that will be planted is up to the homeowner and how much time and money they want to invest in caring for their landscaped beds.
2 Tips To Improve Your Landscape Beds That Won't Require A Lot Of Maintenance
#1: Keep the Edges Clean
There is nothing that will set your landscaped beds apart like a clean, crisp edge. Flower beds look the best when there is a clear definition of where they end, and the lawn begins. It might actually surprise you when you see the difference between an undefined edge and one that looks very neat and tidy. Clean edges give your landscaping the finished look it was missing. Davis Landscape offers a full range of routine landscape maintenance services, including edging to keep our client's property looking great!
#2: Plant Dwarf Shrubs
Dwarf shrubs are low-growing and have many great qualities that make them a great, attractive choice in all landscape beds. They are incredibly easy to maintain because you won't have to fool with pruning them. All you have to do is plant them and walk away, making them a great choice for busy homeowners. Another perk of planting dwarf shrubs in your landscape beds: they keep the weeds down as they grow densely which minimizes weeds from germinating. Can you imagine not having to weed your garden beds bi-weekly during the rainy season?
Two low-growing shrubs with excellent habits we think you should consider:
Chardonnay Pearls Deutzia – In the spring, these shrubs are covered with white flowers and have a bright yellowish green foliage all season. They look really good with limelight hydrangeas.
Low Scape Mound Aronia – These grow neat naturally and have something to offer all year long. Their unique growing habit is best suited for edging, ground cover, and perennial beds.
Enhancing Your Landscape Beds
If you've been to the suburbs, you've seen new-build homes with minimal landscape. Most have a small foundation row of shrubs only a single layer deep. If your home is similar, you can add a level of sophistication by planting some groundcovers or perennials in front of your shrubs. Want to spruce it up even more? Add smaller shrubs in mid-ground and plant perennials in front of these small shrubs. Layering your landscape is a sure way to enhance its overall appearance.
Want more? Expand the size of your beds to accommodate unique boulders, ornamental trees, or even a fancy water feature. Your landscape bed can be designed in a way that seemingly sweeps into the open portions of your yard defining spaces, screening any unsightly views by creating attractive eye-catching focal points and visual destinations in your landscape.
If you are ready for a new layout in your landscape and want to learn more about how we can help you make your property look better than ever, contact Davis Landscape. We serve residential homes in Northern Kentucky and Cincinnati. With our experience and knowledge, we can make the front of your home look beautiful, lively, and inviting.
We would love to add beauty and sophistication to your lawn and landscape.
Contact Us (859-781-0677) for More Information!
—
About Davis Landscaping
Davis Landscape Design & Installation has been providing landscaping services to customers in Northern Kentucky and Greater Cincinnati since 1965! We know that the landscape design process can be overwhelming, so we work with you tirelessly to better understand your vision. At Davis Landscape Design & Installation, we're on your team and we know how to listen and deliver.