The entrance to your home and the area around your garden leave impressions with guests, neighbors, and those who drive by your home. Pavers or concrete can enhance the look of this area and make it stand out. Concrete slabs are quite tough and resistant to impacts. However, paving stones are actually even stronger than concrete and can hold more weight on their surface before a crack occurs. On average, most pavers can withstand up to 8,000 PSI while concrete only supports up to 2,500 PSI. Pavers are more expensive to install but they do not crack. Paver's natural joints move with pressure eliminating the cracking. Pavers often come with a lifetime warranty.
Paver Repairs
Repairs are easy when it comes to pavers because you can tackle the repair on top or even under the paver in question. Generally, if a paver needs to be replaced, it can be done without having to replace all of the other pavers or even those around it. Pavers are manufactured to be uniform, so they are easily replaced. Just remove the damaged pavers and replace them with new pavers. Say a tree root is lifting a few pavers in your driveway, remove the pavers and cut the tree roots out and replace the pavers. It is very easy to repair and replace pavers and your driveway will look like new.
Paver Appearance
Pavers are usually more visually appealing than concrete slabs because you can manipulate the pavers and create designs, and they come in a variety of colors. Pavers are a man-made material, meaning they can be made in a variety of shapes and sizes. Pavers can be anything from long and plank-like to small and brick-like. Pavers are also less likely to fade or wear down in high-traffic areas compared to concrete due to the fact that the color is embedded throughout the stone. You can choose from many types of stone when selecting pavers; some of the most common types are granite, slate, travertine, or sandstone.
Sealing Pavers
Do I need to seal my pavers? The short answer is Yes. Paver sealant is an important maintenance tool to keep paver patios, walkways, driveways, and pool decks looking as beautiful as they day they were installed. Do not seal your paver if there is even a remote chance of rain, fog, or a drizzle. Water on the sealer before it dries will distort the color of your paver. It is best to wait 30 to 60 days after installation to seal the pavers, let the rain really hit it, and wash off the construction debris, let that stone sit, and breathe a little bit. But at that 60-day point, it's ready to be sealed. Generally speaking, you should seal your pavers every 3-5 years. You will notice if and when your pavers begin to fade or show signs that they need resealing.
Pavers Are Environmentally Friendly
Pavers are environmentally friendly because their joints allow for water drainage. The joints also enhance skid resistance and decrease nighttime glare. Unlike concrete, pavers do not require time to cure. Once the installation is finished your driver or walkway is ready for use.
Paver Resale Value
Pavers have a higher resale value because of their beauty and versatility. Concrete slabs are generally more common, but over time, pavers will net you more value because concrete is expensive to replace and pavers usually have a lifetime guarantee.
Davis Landscape can help you achieve the landscaping you dream about! We also help our clients with hardscapes such as retaining walls, patios, walkways, driveways, outdoor kitchens, fire pits, & more!
Contact Us (859-781-0677) for More Information!
—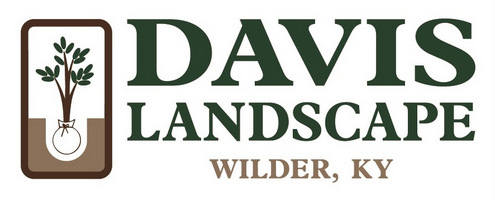 About Davis Landscaping
Davis Landscape Design & Installation has been providing landscaping services to customers in Northern Kentucky and Greater Cincinnati since 1965! We know that the landscape design process can be overwhelming, so we work with you tirelessly to better understand your vision. At Davis Landscape Design & Installation, we're on your team and we know how to listen and deliver.